Request to Move LGBTQ Pride Flag Prompts Investigation at Charter School
April 3, 2023 Editor's Correction: An individual in the below story was originally incorrectly identified as a teacher's aide. In fact, the individual is a teacher who received an emergency teaching license followed by a emergency license extension from the Department of Education. In Massachusetts, one must have either a teaching license or emergency license to teach in public district schools. In Charter schools in Massachusetts, with the exception of English as a Second Language, a teaching license is not required, but within a teacher's first year, he or she must either pass a subject-matter competency test or obtain a teacher's license (or emergency teacher's license). 
Earlier this week it was revealed in emails from the Chair of the Marblehead Community Charter School (MCCPS) that the Head of School, Dr. Peter Cohen, was being placed on administrative leave. In question is a conversation "between Dr. Cohen and a staff member."
Repeated inquiries to MCCPS by Marblehead Beacon were referred to Board of Trustees Chair Tim Wadlow, who has not responded to our requests to discuss the matter. Dr. Cohen did respond, stating, "I am unable to comment while the investigation is pending. This is a situation between me and faculty, and does not involve the students."
We have learned from someone closely associated with MCCPS who asked not to be identified that the matter stems from a request by Dr. Cohen to a teacher that the teacher move the location of a displayed LGBTQ pride flag. In response to that request, the teacher reportedly filed a complaint alleging discrimination, resulting in Dr. Cohen's suspension. For reference, there has been a large pride flag on display in the front inside entrance of the school during Dr. Cohen's tenure. 
We spoke with an MCCPS student, who asked not to be identified, and learned that during yesterday's MCCPS community meeting  – a daily gathering in which all students in grades four through eight as well as teachers and sometimes parents and community members are present – the same teacher who made the allegation made a presentation to the students. In the presentation, this individual presented a slide show for the children that included photos of himself in high school – when he stated he was a female – followed by additional photos chronicling his transition to identifying as male. 
Also following the allegation and during the time Dr. Cohen has been suspended, the teacher placed numerous photos – as depicted below – on a board in the front of the school that showcases various pride flags as well as memes and photos purportedly supportive of gay and bisexual individuals. One that reads, "*Strict parents sends [sic] their son to a boy's school*" followed by a photo of actor Leonardo DiCaprio laughing with the caption, "Gay son." Another states: "Me: wears a pink shirt" followed by "Every 6th grader that notices" along with a photo of actor Keanu Reeves stating, "Pretty sure you're gay."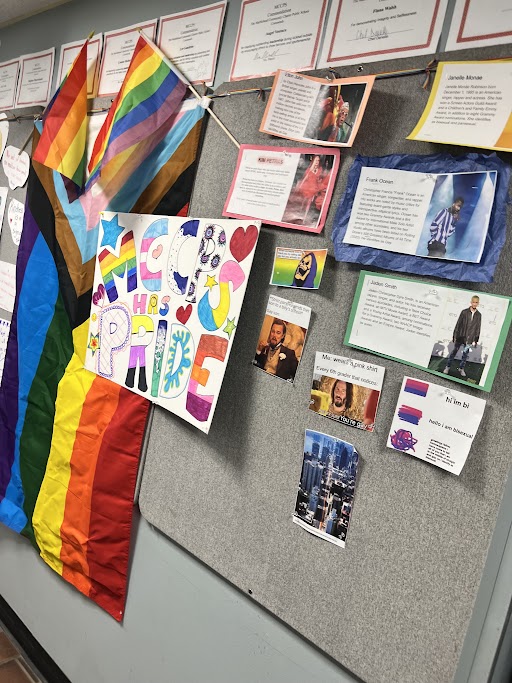 One parent to whom we spoke was angry, calling the matter a "witch hunt against Dr. Cohen," adding that the community meeting was "outrageous," particularly because it "appeared to be done purposely while the acting head of school was absent." She further stated, "it's not right that this slideshow was presented to young kids like mine by someone who was clearly acting in retaliation and bad faith for being asked to move his flag." She added that "Dr. Cohen has been nothing but incredibly supportive of the LGBTQ community" and that "this person is trying to wreck the reputation of a decent man." 
The matter is reportedly being investigated by three MCCPS board members.