Marblehead's Post Office Legend: Barbara DiVenuti 
Editor's Note: From time to time, Marblehead Beacon will profile interesting people who live or work in town–individuals whose insights, wisdom, or experiences might otherwise not be chronicled. Ideas for future profiles may be sent to info@marbleheadbeacon.com.  
Barbara DiVenuti has talked to, helped out, and laughed with more of the town's residents than most other locals can boast. Employed at Marblehead's post office since the Reagan Administration, she connects with dozens of town residents each day. Multiplied by her decades behind the counter, she's had tens of thousands of interactions with the people of Marblehead. 
"I started off as a mail carrier," DiVenuti says. "Then, about two years in, I had a brain aneurysm, recovered, and delivered mail for about another eight years, and then became a clerk." DiVenuti, who grew up in Lynn, has worked behind the counter for the United States Postal Service in Marblehead for the two-plus decades since the nearly fatal health crisis and its aftermath caused her to pivot. 
Before joining the post office, DiVenuiti worked in various jobs, including stints as a forklift driver at General Electric and clerical roles at the Department of Education and the Department of Transportation. "I worked in jobs with very few women," she notes. She took it all in stride, sharing that when other women asked her how she could spend her lunch hours with crude men, she'd say, "I don't have to go home with them at the end of the day, plus they're really funny." 
DiVenuti's roll-with-it style has come in handy over the decades she has worked in Marblehead's post office. In that time, she has gone from inputting data by hand to the entire system being computerized and having to scan virtually everything that comes through the door. "It's not just mail that's tracked," she notes. "Every mail carrier is tracked on their route now." It's a different world, according to DiVenuti, who insists that while some complain about change, it is not all bad. "A lot of the changes have made things easier for customers and for us clerks." 
For Marblehead residents who have crossed paths with DiVenuti, she leaves an impression. "You either love me or you hate me," she says, laughing. "I look at things with a real sense of humor because otherwise I'd give up. You just have to laugh." She notes that her rough-around-the-edges style is not always understood immediately. "I think I scare some people, but I always say 'it's the face my mother gave me.'" 
DiVenuti has a fondness for her customers. "I know so many people in Marblehead, even though not always by name." Her tough exterior gives way to the warmth that her regular post office customers see. "I'd do anything for you," she says, referring to how she feels about people in general, a sentiment reinforced by the bumper sticker on her car that reads, "You Are Magnificent."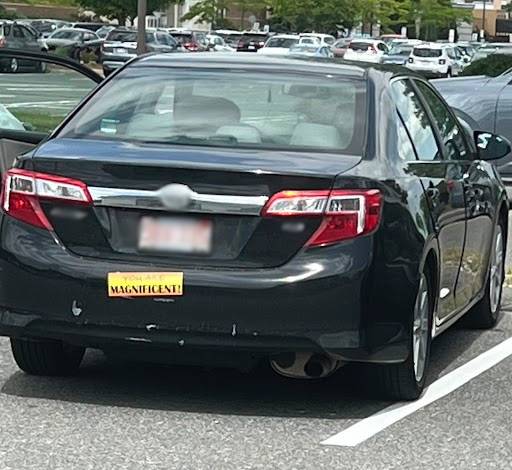 A peek behind the counter offers up magnets from all over the world–gifts from customers who bring them back from far-flung places. 
As is the case with most people, there is more to DiVenuti than what her customers see. She has not had an easy life, having experienced her share of tragedy and difficulty, the worst of which came in 2020: the year her 37-year-old son, an only child, Michael, passed away. "He had been such a sweet boy," she says, wistfully discussing his early years, before he started down a dark, addiction-filled road. "I remember once when he saw an ad on TV about starving little children in Africa," she said, "and he began to cry about their distended bellies, insisting that we give all our money to help them." In recounting this and other stories from his childhood, she notes that Michael had suffered his own losses early-on. "He was very close to my mother, and then she died of cancer when he was 11 years old," adding that her son had also been close to his stepfather–her partner–who died of cancer the following year. Between those losses and other challenges he faced, life was not easy for Michael, who ultimately became addicted to Oxycontin. 
"He was spending $80 a pill," DiVenuti said. This resulted in stealing to support his habit, and he landed himself in and out of jail, which was painful to watch, she shares. "He'd been so kind and sweet, but the drugs just altered his personality." Before long, her son took the less expensive alternative to Oxycontin for which many opioid-addicted people opt: heroin. 
After stints in rehab, DiVenuti's son got clean from opioids, but addiction of one sort or another was simply not something he was able to conquer. Michael turned to alcohol and overeating, a sustained combination that proved fatal two years ago.  
In spite of suffering what is widely thought to be among the worst tragedies one can suffer–the loss of one's child–DiVenuti continues to work, and even to smile and laugh. "It's what I use to deal with everything," she says, referring to her sense of humor. And with respect to sharing personal details about Michael's struggle, she understands that others have suffered similar losses and recognizes there is good to come from speaking about it. In the meantime, she continues to commute to work from Wilmington, taking one day at a time, always looking forward to returning home to her pets, who make up most of the photos in her phone. "This is Bailey, this is Max, and this is BG," she says, showing off three of the dogs with whom she has shared her free time in recent years. "When Bailey was alive, I used to take him out for hours, just driving all over," she says of one of her favorite canine companions. "He loved it and was a great listener."
As to whether retirement is in her future, DiVenuti wants no part of a life without purpose. "I think I'll probably work until the day I die," she says, noting that when she was quarantined last year due to Covid, "I nearly lost my mind." 
Barbara can be found at her station in Marblehead's post office, a throaty laugh waiting to greet customers.
To post a comment, please login. If you do not have an account, please create one.