Marblehead Women Spearhead Pickleball Tournament to Benefit Girls Inc. of Lynn & Boston
As pickleball continues to sweep the nation, a group of Marblehead women have capitalized on their love of the sport to do some good. The Win-4-All pickleball tournament – which will take place on Sunday, September 17, 2023 – is being organized by these women, and will benefit Girls Inc. of Boston and Lynn. The event will take place at the Manchester Athletic Club. 
Girls Inc. of Lynn and Boston is a non-profit organization that serves girls from ages five through 18 and sometimes beyond. Its menu of services offers mentorship, leadership training, and general guidance to girls and young women. From school-aged childcare to middle school and teen programming, Girls Inc. works to ensure that enrolled girls are able to access what they need to achieve lifetime success. The national organization has been in existence for 160 years, but continues to evolve and grow.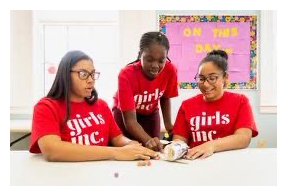 In 2019, Girls Inc. launched "Project Accelerate," which follows college-bound young women from high school through college graduation and beyond, assisting along the way with guidance and mentorship in social-emotional learning, internships, job placement, and more. "We are going to stay with them," says Deb Ansourlian, Executive Director of Girls Inc. of Boston and Lynn, "through their first year in the workforce." 
With a goal of raising $40,000 for Girls Inc. of Lynn and Boston, the tournament organizers are working to spread the word to the pickleball community, which has a sizable contingent in Marblehead. An Instagram account called "marbleheadpickleball" boasts more than 800 followers, and is dedicated to the "public courts located at the Vets School and Seaside Park in Marblehead." US Pickleball Ambassador to Marblehead, Lisa Spinale, is helping the Win-4-All tournament by promoting the event within this vibrant local pickleball community.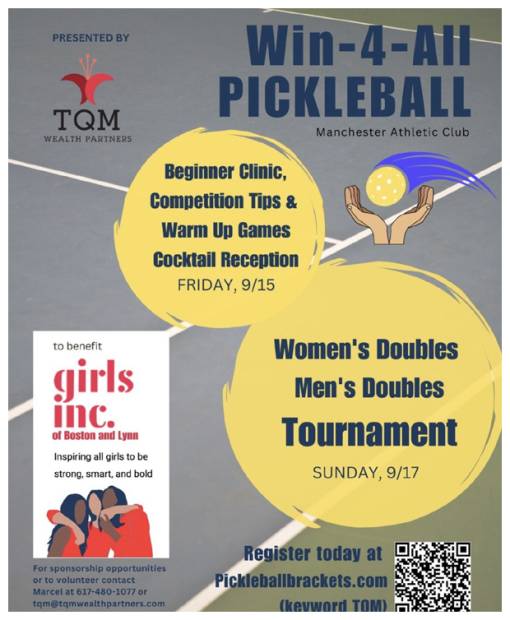 Kicking off the tournament weekend will be an evening reception dubbed "Pickle and 'Tails," which will start with a brief yoga stretching class, continue with a beginners' clinic, and will have games and prizes, culminating in a cocktail reception with catering donated by Marblehead's Soall Viet Kitchen. 
In terms of finding Win-4-All tournament participants, the organizers are enthusiastic and optimistic. "We anticipate a large turnout," says Marcel Quiroga, a Girls Inc. of Lynn and Boston board member, and founder of TQM Wealth Partners in Marblehead  – the presenting sponsor of the event. She believes the anticipated number of participants will make it "an ideal platform to raise awareness of Girls Inc. of Boston and Lynn's life-changing programs that equip girls to develop their potential, cultivate leadership skills, and become confident and successful individuals." Friday night's reception, Quiroga says, will effectively serve as "a pep rally for the tournament." 
As the Win-4-All publicity gets under way, sponsors are stepping up, with sponsorship options ranging from $250 to $2,500. Karyn Zion, one of the event's planners, tells Marblehead Beacon that Hood recently announced it would be a major sponsor of the tournament, and will be offering samples of its newest food products at the reception. Also contributing equipment to the tournament will be the national brand Paddletek. 
The event's genesis, Ansourlian says, showcases the "power of women coming together to lift up the next generation of leaders." The fundraising proceeds, she adds, will help ensure girls have the knowledge, resources, and skills to live healthy lives, access meaningful educational opportunities, and be leaders of positive change in their communities."
Until recently, the local Girls Inc. of Lynn served girls strictly from Lynn. Because there was also a significant need for Girls Inc. services in Boston, Ansourlian says, they expanded their reach several years ago with the help of the national organization. 
The Win-4-All tournament was the brainchild of Quiroga, who, together with a number of other Marblehead women, put the wheels in motion to combine their love of the sport of pickleball with their dedication to an organization that's right next door to Marblehead. Among the Marbleheaders planning and executing the event are: Karyn Zion, Donna Crotty, Kim Trudel, Kim Hutchinson, Kerri Zurn, Kate Dinsmore, Mary Clough, Val Rice, Martha Potvin, Liz Blodgett-Smith, Jenny Williamson, Janice Walker, and Megan Carlton. Others include Sarah Caliento – the US Pickleball Ambassador from Lynn, who is also the tournament director – as well as Susan McBride and Florence Corea of Saugus, and Rebecca Bonilla, Fund Development Manager of Girls Inc. of Boston and Lynn. 
The cost to register for the tournament is $55, and tickets to Friday's reception are $55. For those who purchase both, the reception is discounted to $45. All levels are welcome. Ticket and donation information may be found here. Sponsorship information may be found here.